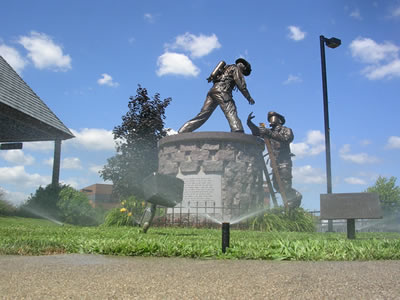 H. S. Altman Irrigation has been the premier contractor in Michiana since 1947 for irrigation design, installation, service of your residence, office and commercial property or athletic fields. 
With our experience of the most current products, knowledge of the aged copper irrigation systems, our one on one approach to customers, our 24 hour service and 65 years of history, we are sure that your irrigation experiance will be a plesant one.
Located at 3885 South Main Street in South Bend, we are here for professional installed design and installation as well as for the 'Do it yourself' customer with replacement parts for most product lines. 
H. S. Altman Irrigation continues to be involved in the Michiana community by donating time and products for great organizations like Logan Center, St. Joseph County Special Olympics and many local Little League Parks.
Our satisfied customer list includes well known properties such as the College Football Hall of Fame, Coveleski Stadium, Marian High School Soccer Plex and the award winning Jackson Football Field.  We also do work for the cities of South Bend and Mishawaka. We would love to add you to the list.
For all your irrigation needs you may schedule online or contact us at 574-291-2233 or toll-free 855-834-2233.
We are H. S. Altman Irrigation and for almost three quarters of a century, we have been and will continue to be here for all your irrigation needs.